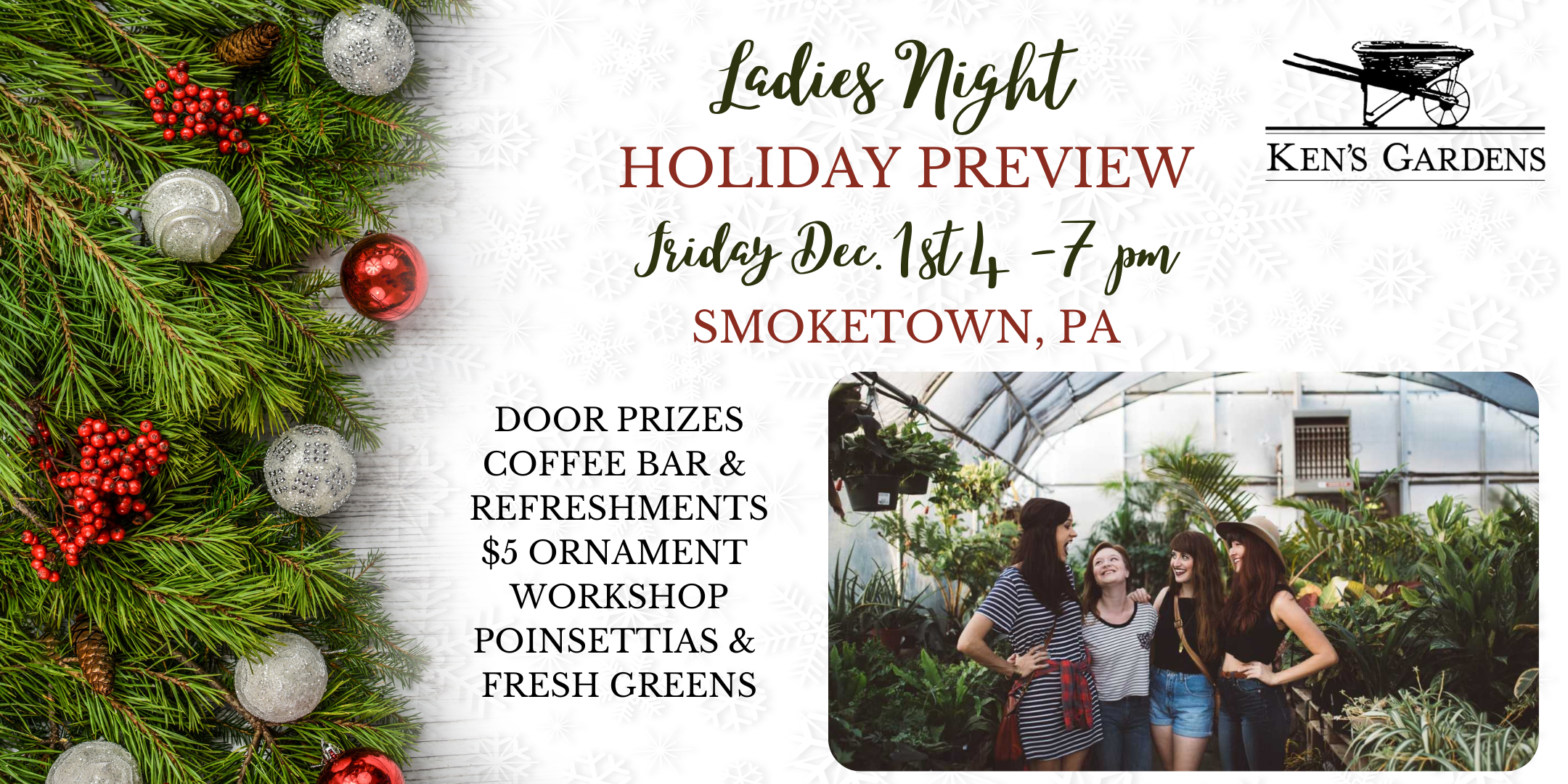 This is a drop in event. Ladies of all ages, grab a friend and come experience the magic of Christmas in the greenhouse.
We'll be fully stocked with Poinsettias, greens, and all the decorating inspirations you will need this holiday season. Lots of festive things to do including complimentary refreshments, coffee bar, door prizes, demonstrations, $5 or $10 kokedama workshop station and a free workshop station. Visit our ornament exchange tree. We'll follow the 1 for 1 rule for the ornament exchange (bring 3 ornaments, leave with 3 ornaments).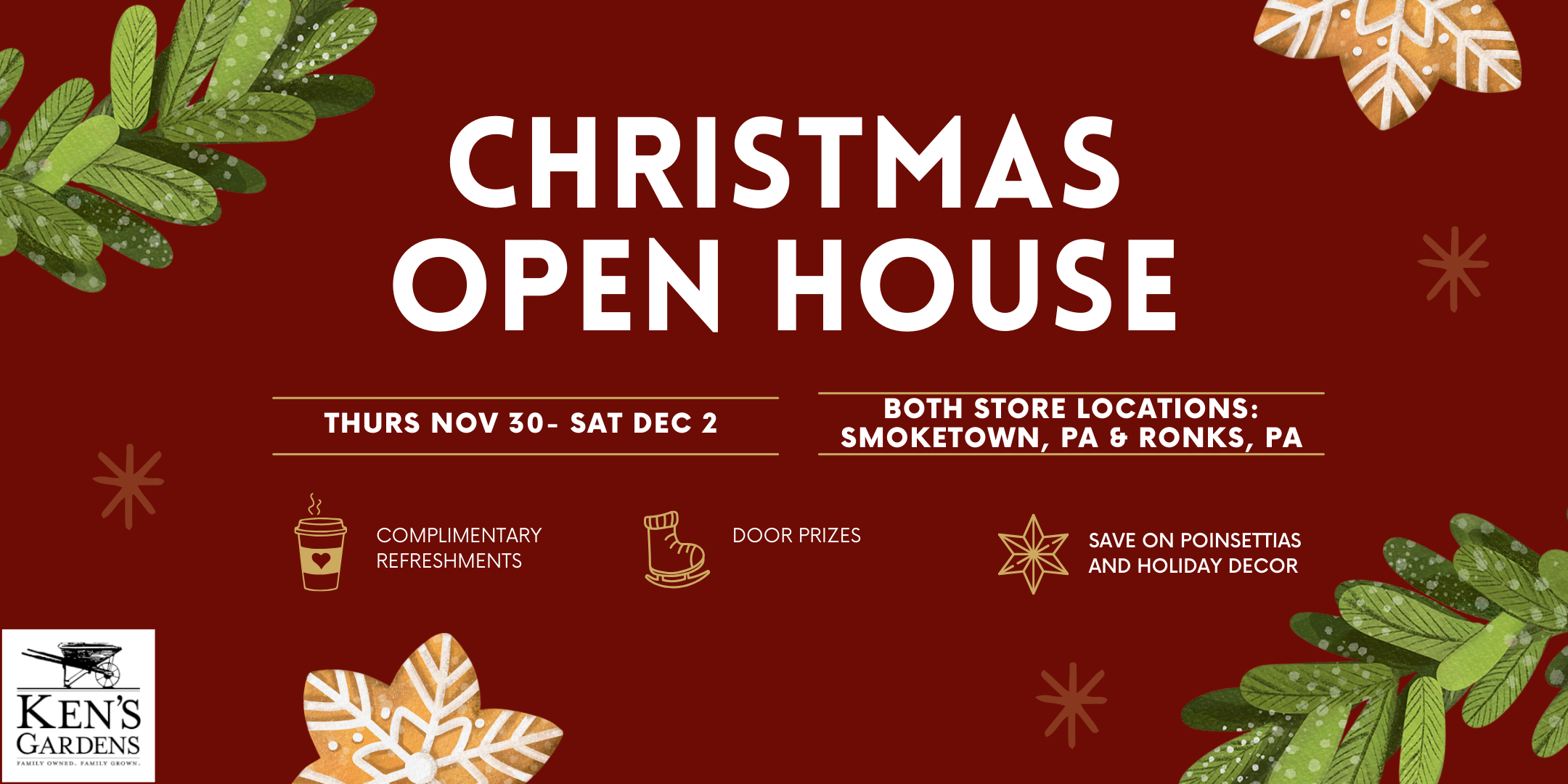 Join us for our popular Christmas Open House! Savings on Poinsettias and Holiday Décor. Homemade cookies & door prizes.
FAMILY OWNED. FAMILY GROWN.
Ken's Gardens Is Your One-Stop Garden Center
From seeds and plants to pots and tools, Ken's Gardens has everything you need to make your garden grow. Visit our two garden centers (in Smoketown and Ronks) and see why we've been a Lancaster County favorite for 50 years. If you're in downtown Lancaster, don't miss our sister store, Gallery Grow!
"I bought a sweet pepper plant with just enough heat. Not only do they carry plants that aren't at your big box garden centers, they provide opportunities to educate yourself. Great selection and helpful staff."
"The staff was very friendly and took the time to explain what I needed to fix some bug/fungus issues my indoor plants were having."
"Thrive. This is the perfect word for the plants I have gotten at Ken's Gardens."
Why Shop at Ken's Gardens?
Plants are our passion. We're proud to offer healthy plants and friendly service from our greenhouses in Lancaster, PA, and honored to have repeat customers from both near and far.
SELECTION
Have Your Pick!
With hundreds of blooms, bushes, and other greenhouse goodies, you're sure to find a perfect plant. Stop in often to see our latest inventory.
SERVICE
Helpful Staff
Our friendly, knowledgeable employees are ready to help, from making plant suggestions to offering advice on common garden problems — both in-store and online.
SUPPORT
Workshops & More
Our garden center events will teach you how to start seeds, plant a container garden, or make a terrarium or other creative project.
GIVE THE GIFT OF GROWTH
Gift Cards
Gift cards are available at all of our locations. Or, click below to email a gift card right to your favorite gardener!
LEARNING CENTER
Learn & Grow at Ken's!
Learn about planting fruits and veggies, pruning shrubs, caring for roses, and more. And, see this year's list of our veggies and herbs!
Search the Perfect Plant database to find and identify garden plants and pests, including weeds, bugs, and diseases.
When is Ken's open? What is our return policy? Find the answers to some of our customers' most common questions here.
Planting Bars
All three of our locations have a Planting Bar, free to use when you purchase a plant and container. Here's how it works:
Purchase plant and container.
Use our tools and soil to pot your plant in-store.
Drive away with your plant ready to go to its new home!